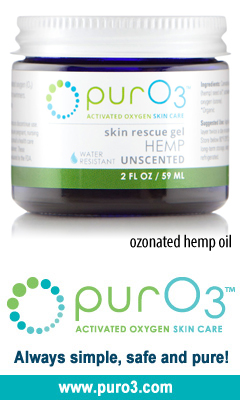 Pure Being from PurO3
PurO3 infuses omega-rich Organic Hemp oil with activated oxygen (Ozone) forming a water-resistant, oxygen-rich gel. It forms a sun-screen on sensitive skin areas such as a Basal, and it's excellent for swimmers. This Hemp Oil is the strongest PurO3 oil available.
What is Hemp Oil?
Hemp oil is high in omegas and when combined with ozone it forms an oxygen-rich, water-resistant, honey like consistancy. Hemp Oil is not THC. Hemp has a 3:1 ratio of Omega-6 and Omega-3 fatty acids, which can help reduce acne, eczema and psoriasis symptoms. It also includes Vitamin E and Vitamin D, can act for some as a natural sunblock and has properties of anti-inflammation some other oils don't have.
This oil is very strong. If your skin is sensitive you use it with care: I had to use it on my skin only every other day during the first week of usage, and on alternate days I used one drop orally on the tip of my tongue. I had mild hayfever-like symptoms during the first week.
Ingredients: Cannabis sativa (hemp) seed oil*, activated oxygen (ozone). *Organic. You can read more below about Cannabis Sativa . . .
How do I use it?
Basically, I take one drop every morning on my fingertip, taking half the drop on my tongue and apply the rest to the Basal: I practice intention and self-healing as I apply the oil to the skin.
PurO3 advise applying Hemp Oil to the affected area up to one or two times daily [or as you may be instructed]. Because it takes longer to absorb into the skin compared to some of the other ozonated oils, it may be good to put a bandage over it to keep it on the skin.
The "how's" and "why's" of ordering
Ships from the US, Delivery to Europe usually one week
Buy PurO3 Organic ozonated Hemp Oil here
" This is the purest and strongest from of Hemp Oil I could find" Susan Ni Rahilly
Comparison of strengths: The Potential Ozonide Index shows how much ozone a particular oil can hold. Hemp's POI is 192: Coconut (14) — Castor (35) — Jojoba (39) — Avocado (90) — Olive (92) — Sunflower (153) — Hemp (192)
My experience
I absolutely believe in the power of nature to heal. 4 years ago when I was taking a year out in Spain to take care of my own health and wellbeing, the Basal on my chest seemed to be changing in appearance a bit. An old friend in Scotland, knowing I'd had a very stressful few years asked me to get Hemp Oil . . . she'd seen the film "Tears of the Phoenix".
To cut a longer story short . . . This year, 2017, the Basal which hadn't changed in the interim few years then showed changes in appearance, red and inflamed and itchy. I ordered the Hemp Oil again. It arrived in exactly a week. 35 days later the healing is obvious: I'll post the pictures I've been changing when I'm satisfied I have a good record of my methodical use of the oil.
You can read the full Blog here. More information about this ozonated pure Hemp Oil, usage, ingredients and the process is here.
More About Cannabis Sativa
Marijuana, hemp, and cannabis are common names for plants of the genus Cannabis. The term "hemp" is used for Cannabis plants that are grown for nondrug use, such as Cannabis sativa. Cannabis indica has poor fiber quality and is used to make drugs for recreation and medicine. The major differences between the two are appearance and the amount of delta-9-tetrahydrocannabinol (THC), the active ingredient of marijuana.
PurO3 Ozonated Organic Hemp Oil does not contain THC. It is the strongest, organic form of this oil I could find in my research with the added benefit of being ozonated. This Hemp Oil is legal in Ireland.
This is a good source of further information about usage of Cannabis Sativa, Hemp, at the Mayo Clinic website
"My aim is not to change the world, but change our attitude to self-healing: bringing peace instead of fear, and offer the support we all need when we are on a healing journey . . . when we know better we can do better, and better information makes for better choices."
Just for being here . . . as a support on your journey
Here is a free audio download, which is my gift for your support . . . Inspiration and beauty are healing for the mind-body-spirit: this is  a free-to-download audio of Susan reading the Love Poems of Pablo Neruda and Rumi. Enjoy
You can go back to the Blog on Why I Chose to Promote Hemp Oil and follow the link to my article on 10 steps to Living Simply with Yoga read the full Blog here.